Flowers mark every major milestone in our lives – from birthdays to wedding days, and condolences to I-love-you's. They symbolize spring, renewal, and affection, and they are unmatched in the grounding promises of hope that they bring to these occasions, however ephemeral they may be.
The tradition of gifting flowers dates back thousands of years and is seen across cultures: woven into Greek mythology, prevalent among Confucianists in ancient China, abundant throughout the Renaissance period, and beyond. We carry these traditions forward with us today in our own culture, but with Valentine's Day just around the corner, those imported roses may just be the heart-shaped elephant in the room.
The climate impact of imported flowers has been well documented. We all strive to do better, but how do we continue to honor these traditions of gifting flowers while taking into consideration our carbon footprint?
That's where we come in! We've curated a list to help you choose a gift that supports small farms and small businesses from across the country to green up your Valentine's Day. Whether it's a gift for your loved one, a Galentine or Palentine, or for yourself (in the words of the great Amy Poehler and Alan Yang, Treat. Yo. Self!)
1. Ask your florist to source local!
Yes, local flowers in February! It can be weather dependent, especially for our northern friends, but thanks to increasing demand for local products (yay!), farmers are finding it more feasible to grow early-production crops in greenhouses! Some amazing local flowers your florist may be able to get: poppies, ranunculus, anemones, tulips, daffodils, hyacinths.
Here are a few regions where you can find some local blooms:
2. Consider Dried!
What better way to convey everlasting love than a literal everlasting bouquet or arrangement? Dried flowers have come a long way since your grandmother's potpourri! They are a trendy way to bring some long-lasting blooms into your spaces to bridge the gap between fresh, and local availability.
Check out some of these options: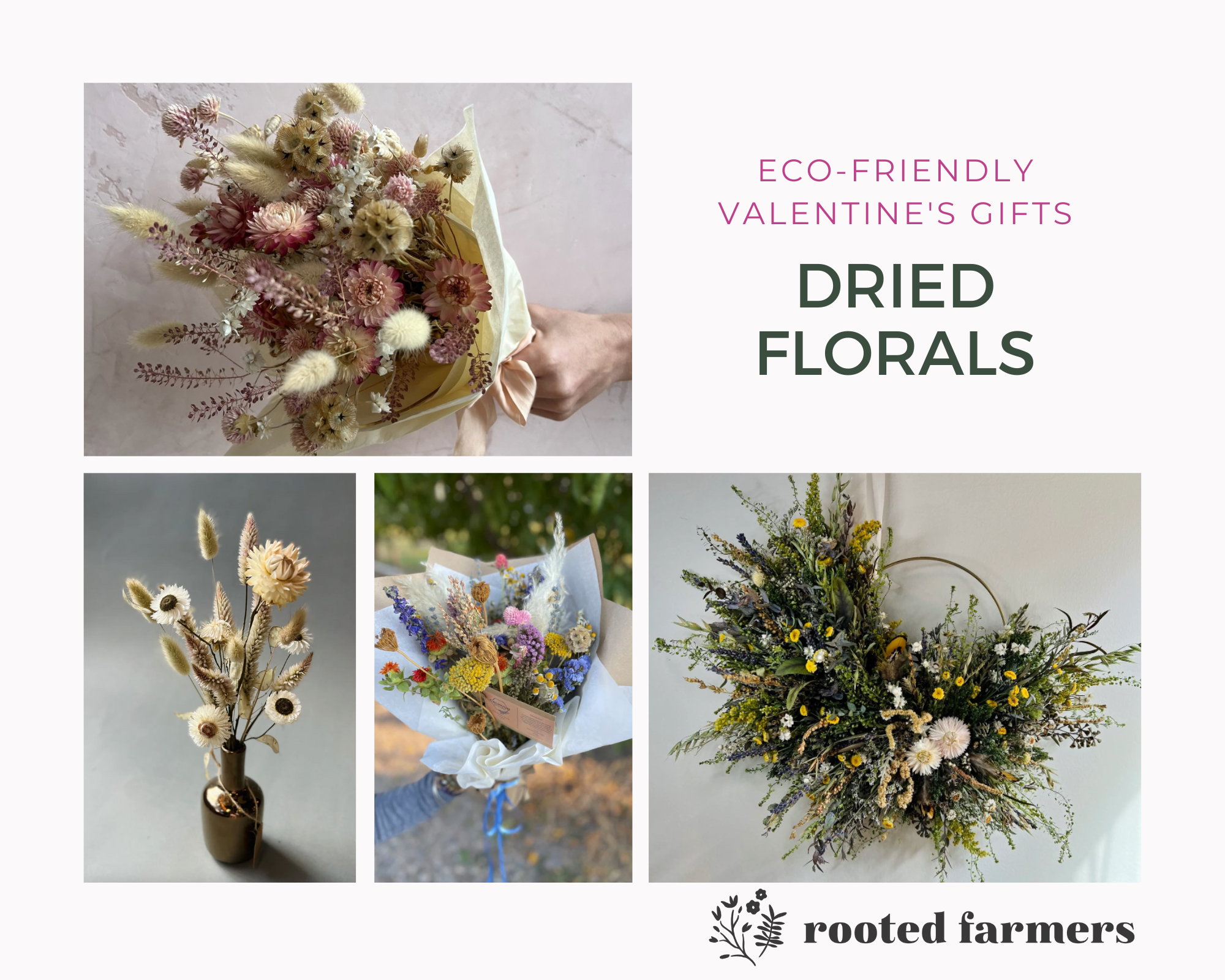 Photo Credits: Images courtesy left to right; top to bottom Field Day Creative, Rushing Blooms Floral Studio, Calhoun Flower Farm, Rushing Blooms Floral Studio.
3. Bouquet Shares
Why give for one day when you can bring flowers into their home for a whole season?! Bouquet subscriptions, CSAs, and flower shares are the gift that keeps on giving. Farms and designers offer options to fit all budgets, and it's a fun surprise to see what you'll get each week. It is also a great way to learn about new flowers and seasonality, and you'll know your share is the freshest of the fresh for long-lasting blooms.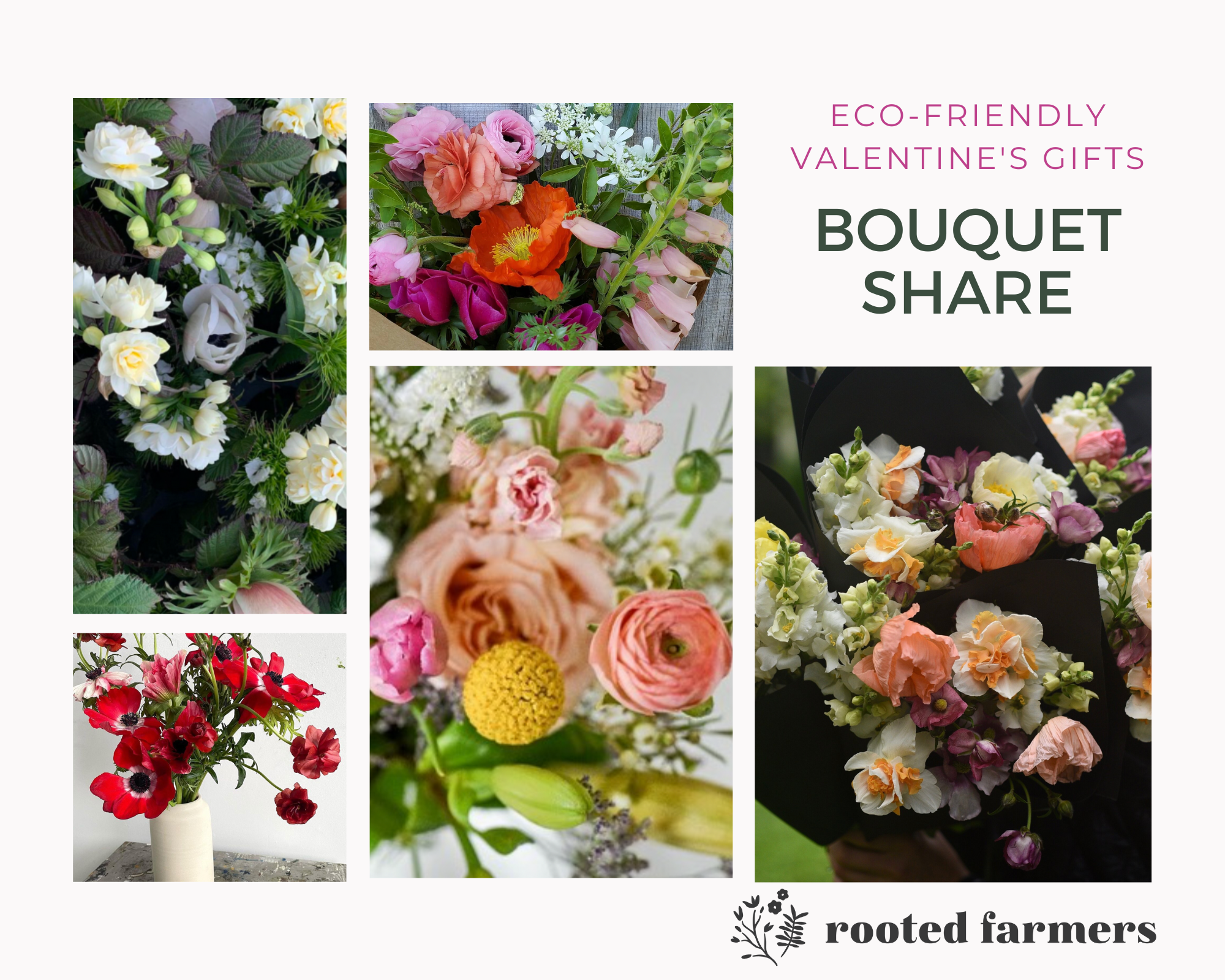 Photo Credits: Images courtesy left to right; top to bottom Monkey Flower Group, Prospect Hill, Molly Oliver, Lou Lou Blooms, Petals, Ink.
4. Floral Art
Farms, local makers, and seasoned professional artists take inspiration from local flowers, and Valentine's day is a great reason to support makers and small businesses. From pressed flowers to botanically dyed ribbons to floral-inspired ceramics to prints, here are a few options: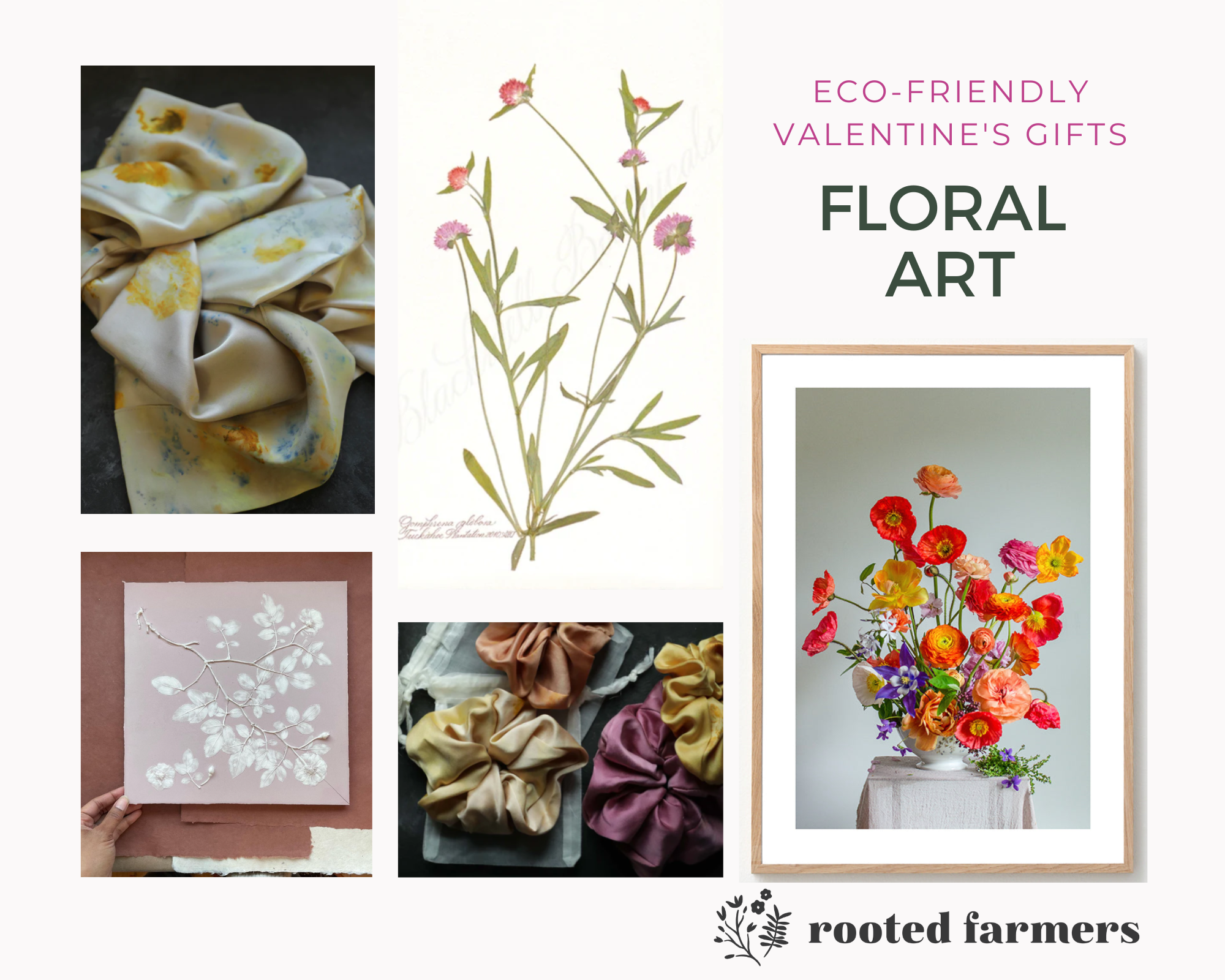 Photo Credits: Images courtesy left to right; top to bottom Silk and Willow, Blackwell Botanicals, Ron Nicole, Silk and Willow, TJ McGrath.
5. Floral Books
Bookworms, farmers, and flower lovers unite! Here are some of our favorite beginner and experienced DIY designer-friendly books, and loaded with stunning photography!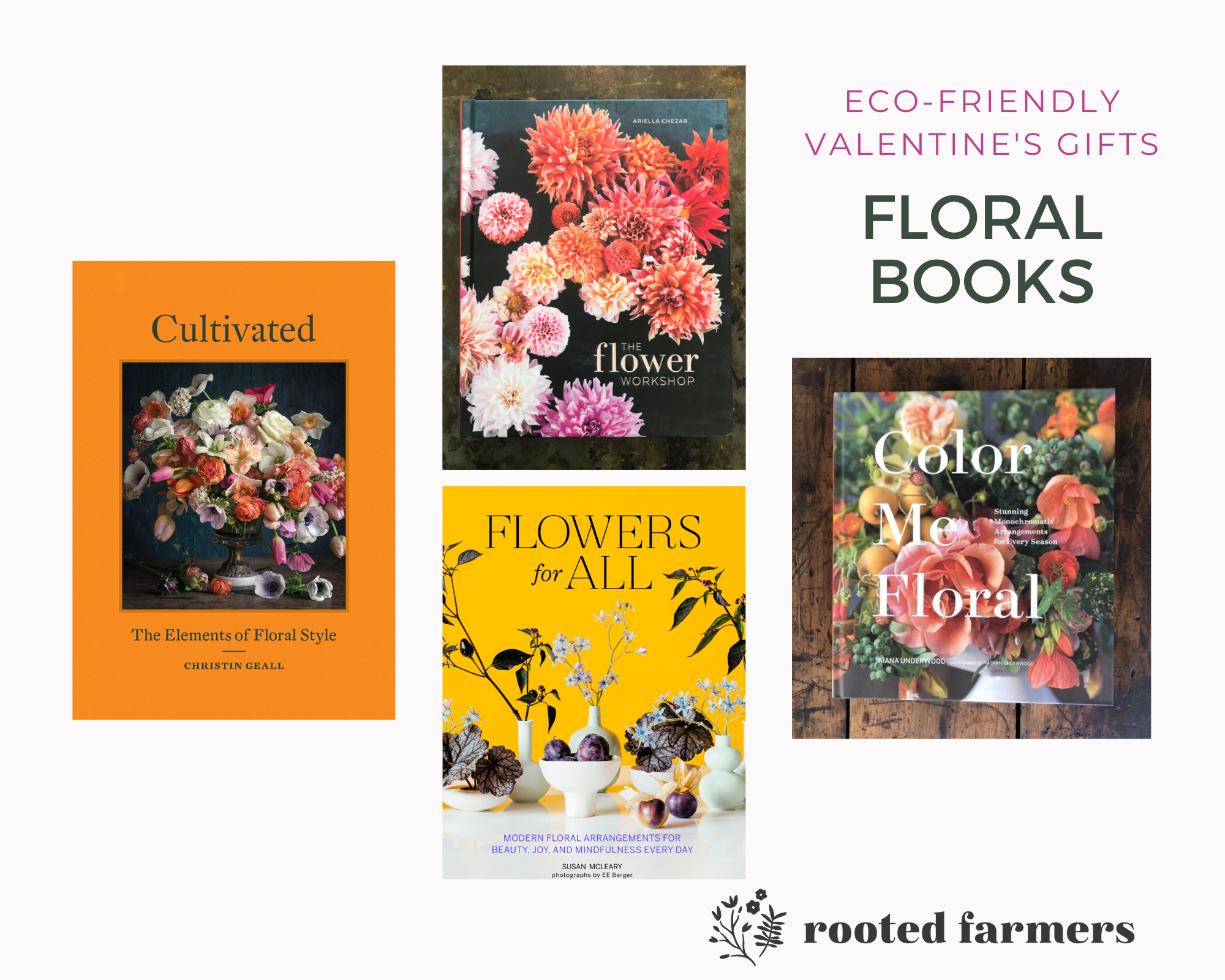 6. Botanical Products
Self-care is love! Botanical products for home, face, and body are great small giftable items – soothing lavender bath bombs, healing calendula salves, invigorating handmade soaps, and protective lip balms to name a few! Check out these small-batch offerings from a couple of our favorite farms: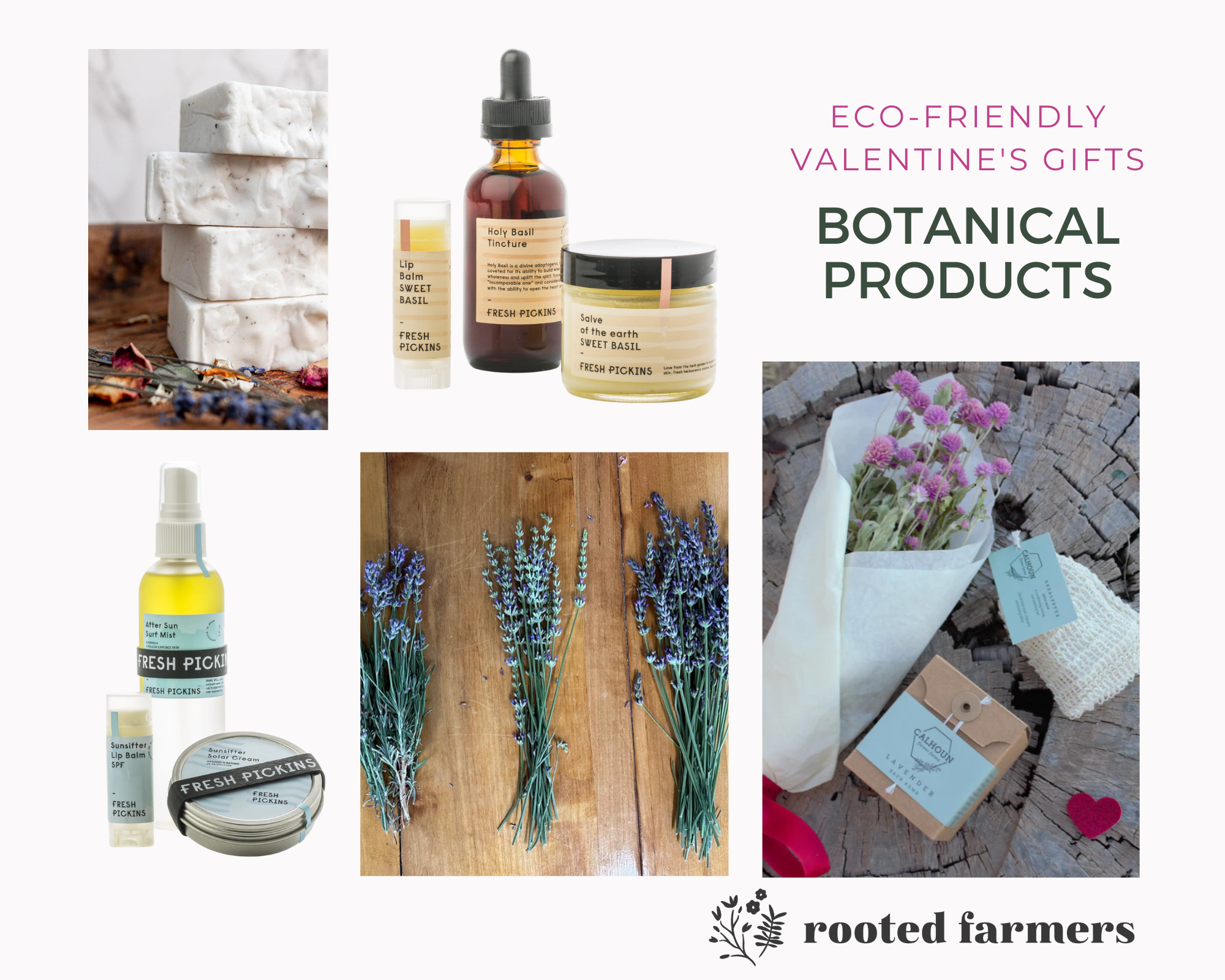 Photo Credits: Top left and bottom middle and right images courtesy of Calhoun Flower Farm; Top middle, bottom left images courtesy of Fresh Pickins