An easy, seasonal approach to incorporating more local flowers that will still give you the stability you need and the look your clients want!
Let's face it: sometimes brides want tulips in July and ranunculus in autumn. You want bouquets that will stand up to all the hugs, and stunning installations that allow you to only use a water source in strategic places – or none at all! As the global wholesale market continues to deliver twists, turns, and unpleasant surprises, florists are turning to local flower farmers for stability and high-quality flowers.
We've created this handy substitution guide to help you source seasonal blooms in your area.
We're going to dive into 5 common wedding and event flowers. Remember, we always suggest talking to your local farmer. They know their blooms better than anyone and can give concrete advice about how a flower performs, conditioning tips, and suggestions when it comes to getting what you need.
Pro-tip: It's helpful to show your local farmers your inspiration board! Giving them context about the overall vibe or feel of the event helps them make appropriate suggestions in your color palette.
Keep in mind that the seasons below might shift a bit based on your location and there are always new and fun varieties of local flowers each year!
5 Commonly Imported Flowers and their Local Alternatives
1. Roses
Spring Subs: Double Tulips, Poppies, Mock Orange, Ranunculus
Summer Subs: Lisianthus
Fall Subs: Dahlias, Lisianthus
Winter Subs:  Ornamental Cabbages + Kales
Pro-tip: Strip off the outer green leaves of Ornamental Kales and Cabbages for soft-colored rosettes.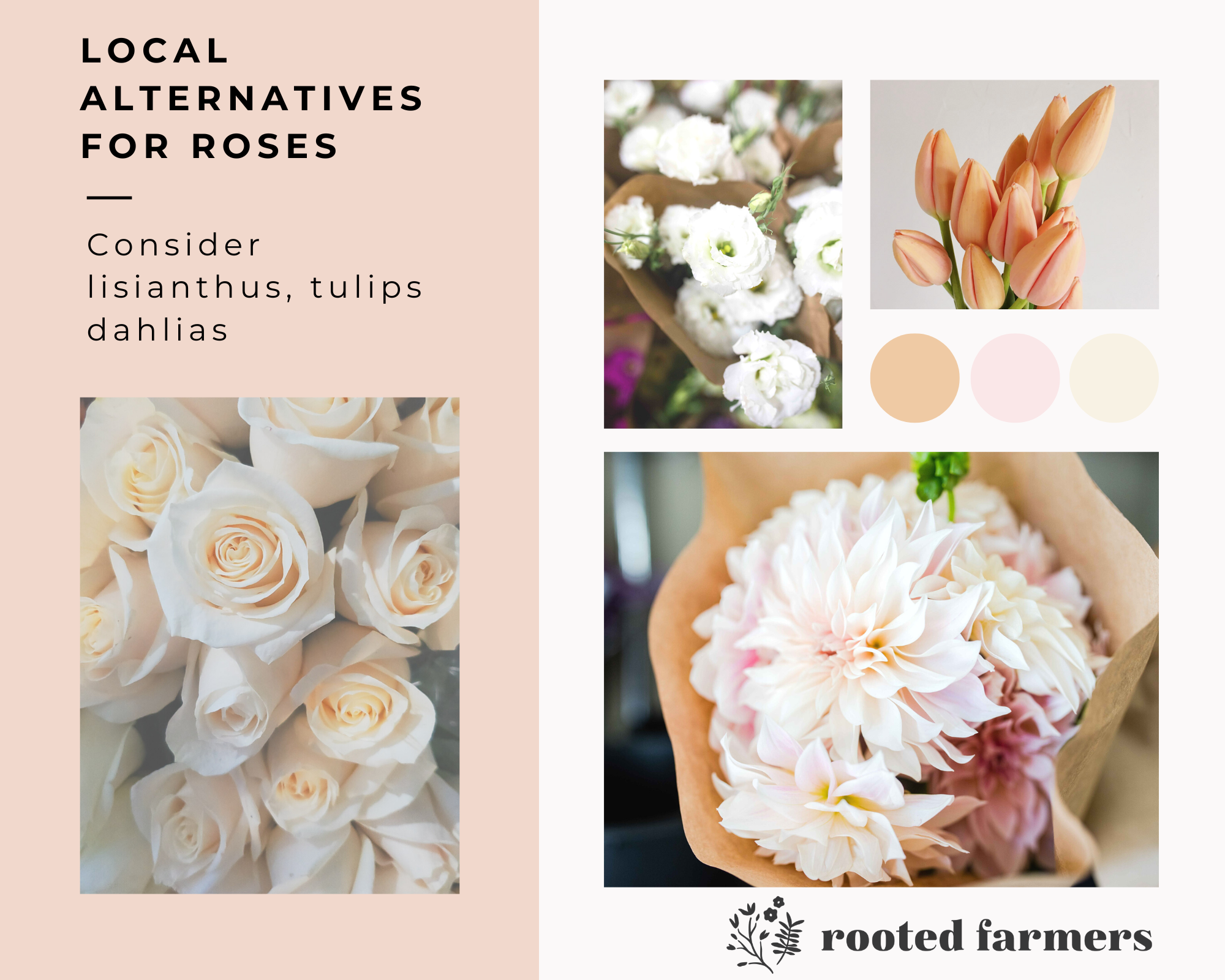 Photo Credit: Tulips image courtesy of Love N' Fresh Flowers
2. Gerbera Daisies
Spring Subs: Anemones, Icelandic Poppies
Summer Subs: Zinnias, Echinacea/Coneflowers
Fall Subs: China Asters, Chrysanthemums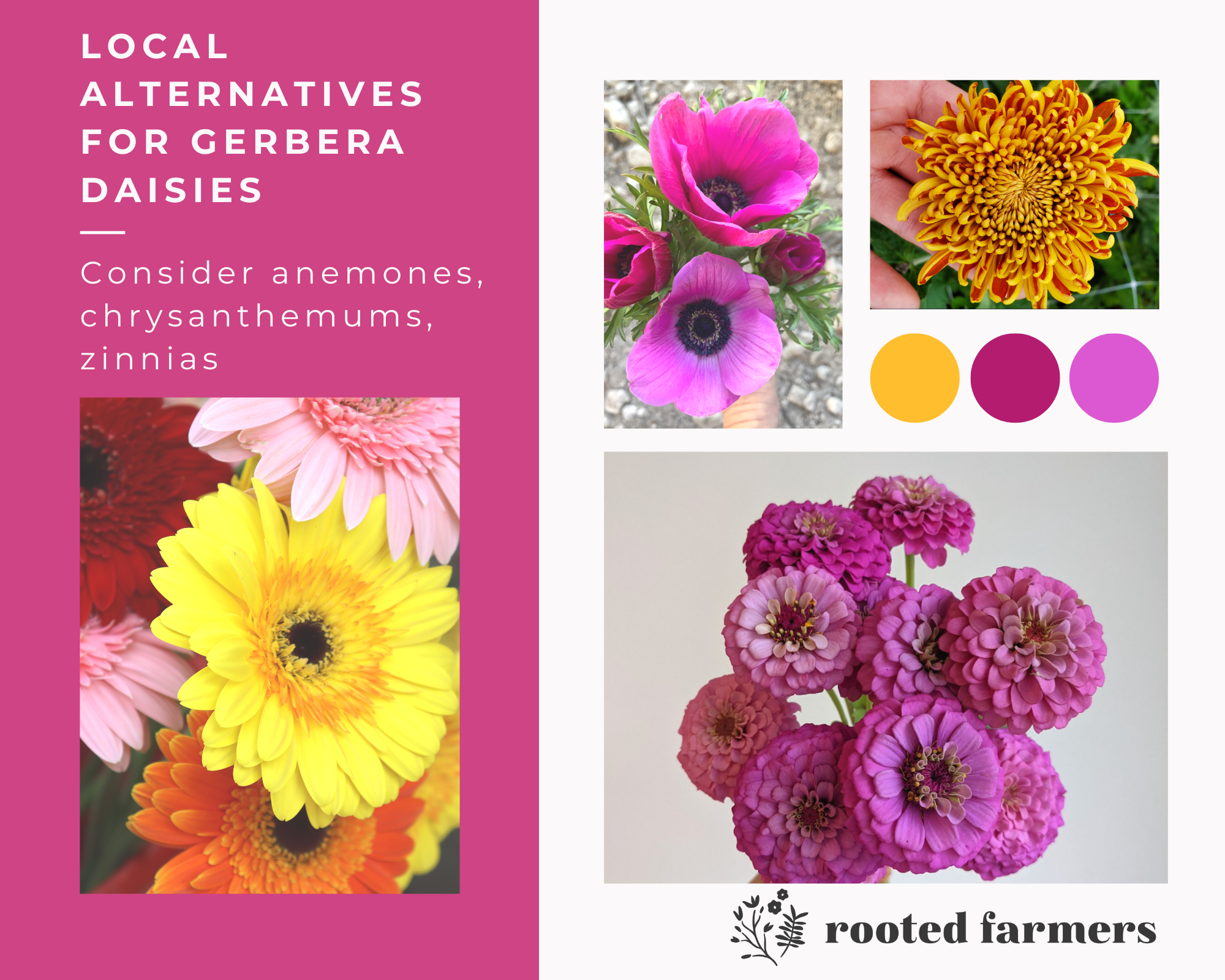 Photo Credit: Anemone image courtesy of Grassdale Flower Farm; Chrysanthemum image courtesy of Wind Haven Farm; Zinnias image courtesy of Tupelo Farm & Garden
3. Baby's Breath and Wax Flower
Spring Subs: Local Gypsophila, Feverfew, Chamomile, Phlox, Forget-me-nots
Summer Subs: Yarrow, Chamomile, Phlox, Gomphrena
Fall Subs: Saponaria, Feverfew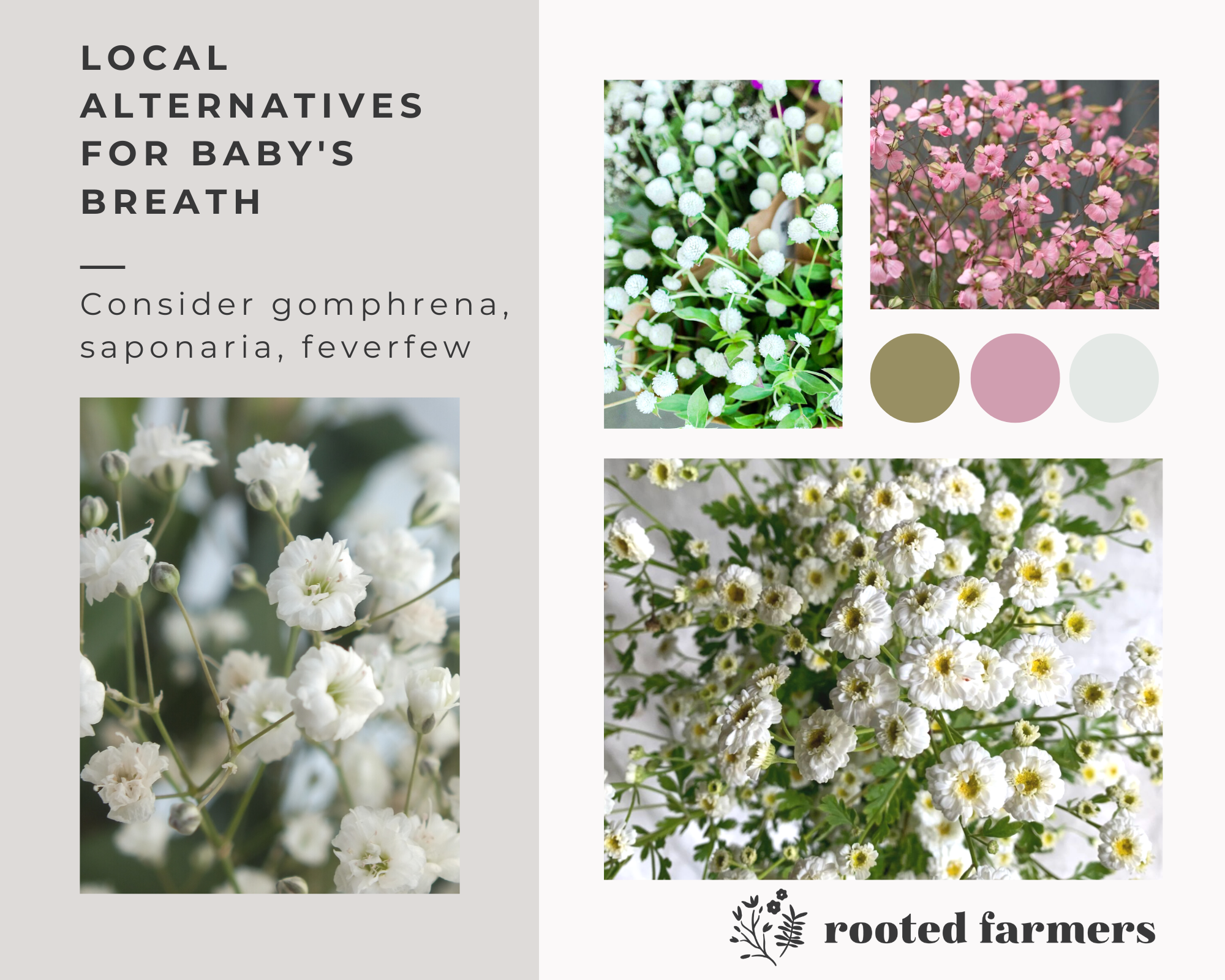 Photo Credit: Saponaria and Feverfew images courtesy of Hazel Witch Farm & Florals
4. Orchids
Spring Subs: Campanula, Penstemon, Bearded Iris
Summer Subs: Blackberry Lily, Crocosmia
Fall Subs: Tuberose, Toad Lily
Photo Credit: Tuberose image courtesy of Hazel Witch Farm & Florals; Blackberry Lily image courtesy of Tupelo Farm & Garden
5. Foliage (Nagi, Seeded Eucalyptus, Italian Ruscus)
Spring Subs: Camellia, Abelia, Mountain Laurel, Japanese Holly
Summer Subs: Silver Dollar Eucalyptus, Willow Eucalyptus, Unripe Blueberries, Camellia, Mountain Laurel
Fall Subs: Mountain Laurel, Japanese Holly, Camellia, Abelia, Silver Dollar Eucalyptus, Willow Eucalyptus
Winter Subs: Mountain Laurel, Camellia, Japanese Holly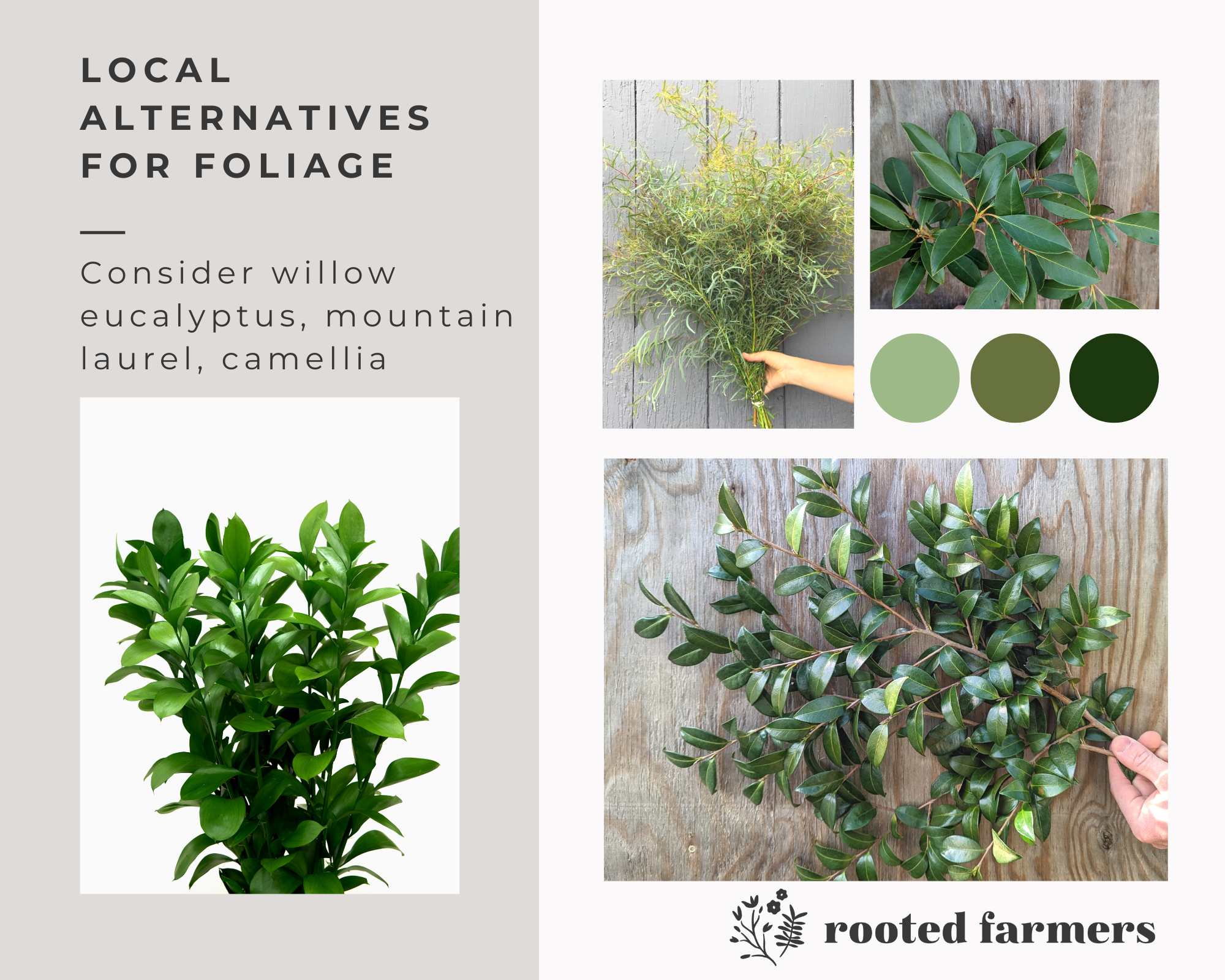 Photo Credit: Willow Eucalyptus image courtesy of Eddy Farm; Mountain Laurel and Camellia images courtesy of Tupelo Farm & Garden
Related: Check out our interview with Rachel Fletcher of Carbon & Co and how she sets expectations with her clients around using local product, making them feel understood and delivering stunning work that meets their needs!